Ironman Training Plan
The Ironman is for many the crowning of endurance sports, the long distance triathlon consisting of 3.8 k swim, 180 k bike and a 42.2 k run. It is a challenging goal for many endurance athletes. The successful participation in an Ironman is only possible with proper and focused preparation. An Ironman training plan developed specifically for this project can help to achieve the goal as effectively as possible and to optimally exploit its performance resources. Only trained as well as physically and mentally fit athletes can survive the extreme demands of the Ironman Triathlon competition.
Our Ironman Training Plan provides exactly the right training and the athlete will be prepared for the extreme requirements of the endurance competition of an Ironman Triathlon. As part of the training with an Ironman training plan, the athlete continuously increases his physical capacity and trains swimming, biking and running systematically. Although the individual disciplines alone are endurance disciplines, the selective individual training alone is not enough, the training sessions must be systematically combined in order to be prepared for the Triathlon.
The Ironman Training Plan must of course also prepare the athlete technically for the three disciplines, so that of course different technical aspects are trained and improved, so that the athlete can work more efficiently with its performance resources.
The Training with our System and the created Triathlon Ironman Training Plan can be for your preparation for the Triathlon of vital importance. Only with the knowledgeable, professional and tailored to your physical requirements, Ironman Training Plan can prepare you sufficiently and effectively for the enormous stresses of the triathlon and increase the conditional skills that you successfully pass the Triathlon.
and
Endurance is the nuts and bolts of a triathlon, which also means that the athlete trains most of his time in the aerobic training zone to improve this focus.
The most important thing with our Ironman Training Plan is that never only kilometers are unwound, but the combination of various training sessions are effective, varied and interesting designed.
The Ironman Training Plans should only be created by a qualified Coach, whereby experienced triathlon trainers in particular can create training plans individually tailored to the athlete Ironman.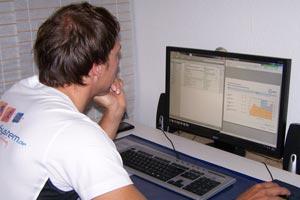 The Triathlon coach learns its athletes in the course of joint work, very well, he knows exactly the Strengths and weaknesses of the athlete, know about the physical requirements of the prospective Ironman athletes to the last detail know and can thus decide on the best, in what areas the athletes will improve and, consequently, must exercise. The weekly training plan will therefore be tailored specifically to the athlete, so an effectively designed Training with an enormously high probability of success is the logical consequence.
With our pre-built training plans, you can choose a low-priced alternative to weekly coaching and achieve your goals as well.
With the right Ironman training plan you can significantly increase your performance and successfully complete your goal, an Ironman or a long distance.
get to our