Triathlon Race Day - Packing List
Triathlon packing list for the race:
1. Clothing and Equipment
2. Nutrition and Hydration
3. Transition Area
4. Personal Items
5. Arrangements and Backups
6. Mental preparation
7. Checklist before your Race
8. Recovery
9. Prepare like a pro: Your ultimate checklist for triathlon Race Day
Did you know that even in an Olympic distance triathlon you need about 1800 swims, 90000 crank turns and 13000 steps to finish?
As you've already established in training, a triathlon is a true test of physical and mental endurance where you have to prove your ability over the competitive distance.
If you want to participate in a triathlon race, preparation is key. That's why I've put together this comprehensive triathlon race day checklist. This list includes tips from equipment to nutrition to mental preparation.
Whether you're a seasoned pro or you're just getting started with triathlon training, I hope to give you some information here to help you cross the finish line with flying colors.

1. Clothing and Equipment
When choosing the right clothing and equipment for a triathlon, it's important to consider both performance and comfort. Here are some important things you should take with you on race day.
General Items:
Triathlon license, daily license,
Race address, route plan and documents
Registration documents (possible digital)
Identity Card, Money
Water bottles, food, snack before the start
Warm clothes, often it is cold in the morning and appropriate clothing is necessary
Marker (to write your number on your arm and leg in case of long line for the marking)
toiletry articles
Triathlon watch
Tools, armor tape for various emergencies
Race clothes
Sunscreen
A bag that is not too big, which can be handed in to the organizer.
Towel, Towels, Shower gel, Other
Swimming:
Swimming goggles
wetsuit if necessary swimsuit
Bathing cap even if there is often an extra cap, it is favorable to put on a second bathing cap in cold water, because the body loses a lot of heat through the head
An old top to put on before the start / on the way to the swim
(Bathing) shoes or socks, so that you don't have to walk barefoot to the swim start
Heartrate strap and timing chip to put on before swimming
2. Nutrition and Hydration
Nutrition, during a triathlon is important to maintain energy levels and avoid fatigue. Please read here our extra article, on nutrition and hydration:
Meal before the triathlon: Eat a light meal rich in carbohydrates and protein 2-3 hours before the start.
During the triathlon: Stay hydrated by drinking water, carbohydrate and electrolyte-rich sports drinks. Provide your body with easily digestible snacks such as energy gels, energy bars and fruit.
Meal after Finnish: Regenerate your body with a meal / drink rich in carbohydrates and protein.
3. Transition Area - Needs
Here it is important to have trained your transition procedures beforehand and to have deposited the right things on the bike or in the transition bags. Depending on the venue, are there one or two transition zones and different rules for using and entering them. The distribution of the equipment in the bag or in the place according to the rules and needs is crucial for a smooth and efficient competition.
What do you need?
Use the checklist to make sure you don't forget anything in all the activities
With the towel: Deposit a small towel next to your bike to "dry" your feet after swimming, or to wipe off sand and dirt before you put on your shoes and so you can put your shoes on it.
With this you mark your area in the transition zone and get a little space. Here it helps enormously to coordinate with the transition area neighbor.
Bicycle equipment:
Place your helmet on the handlebars or in a designated spot in the transition area.
Depending on the desired change speed, it is crucial here to know the processes and places 100% and to have these processes ritualized. Partly I have "stuck" things with masking tape, so that the glasses and fasteners neither move nor leave the place at the wheel at all and can be grasped immediately with the right hand, while the wetsuit can be stripped off at the same time with the feet.
In a transition area with changing bags and changing areas, at most long distances this is not the case. Here a certain order in the bag is necessary to have the equipment at the right time in the right place.

Running Gear:
Put your running shoes, cap, race number and all other necessary items at your place in the transition area, ideally over the towel that you have already used at transition 1 (T1).
Extra water bottles for running. Deposit an extra water bottle in the transition area, preferably in the bag for the second transition (T2) or a running belt with liquid. In very hot events, I put a bike bottle in the freezer the night before the race so that it is then available iced for the run. Attention, of course, a frozen whole 0.5 or 0.75l bottle in the block does not thaw from race morning until the start of the run in the triathlon, here it is better to freeze ice cubes with KH drink and then fill them into the bottle.
Pick up special drinks from the organizer / transition area, if applicable, if there is a Special Needs point.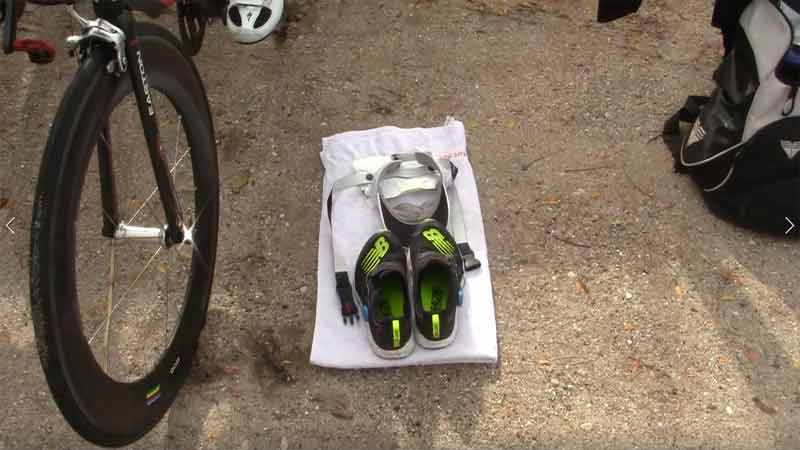 Remember to practice the setup and procedures of your transition area during training. Set up your equipment in the same order and positioning each time to develop an automatic routine and save time on race day. With this routine, you will be set up for a successful and enjoyable transition.
4. Personal Items
Besides the necessary equipment and nutrition, there are some personal items that can make your triathlon experience more comfortable and enjoyable. Here are some things you should not forget:
Sunscreen: Choose a waterproof sunscreen with at least SPF 50 and apply it generously before the start of the swim.
Partially (mostly in T2) the organizer offers to put on sunscreen. Make sure to use your own sunscreen, especially if you have allergies.
The same applies to the race nutrition, which is offered by the organizer. Test the official catering extensively during training. I always see the problem that the concentration of carbohydrates and electrolytes, but also the taste is difficult to predict.
Cap or Visor: A cap or visor can shade your face and keep the sun out of your eyes during your run, and can provide extra cooling when you attach water or cold sponges to it.
You should have worn your competition clothing several times over a long period of time in training to make sure you don't get sore spots or there are "annoying" wrinkles that weigh you down over the race distance.
Extra clothing: Depending on the weather conditions, you should bring additional clothing to wear and change. Optimally, it is perfect racing weather, but it can also be cold or rainy.
Snacks: In addition to your race food, remember to pack some extra snacks to have on hand during the day.
Cash: It is always a good idea to have cash on hand in case you need to buy something during the day, such as food, drink or a parking fee.

5. Arrangements and backup
Confer with your race partners and family at the track, arrange points and time slots to meet before during and after the race. Cell phones often make things easier, but every battery dies at the wrong time, you may not be able to get to your dropped off bag right away, or you may be stranded somewhere on the course.
Also have a plan B for your equipment, practice changing an inner tube or tire in training and putting your chain back on the chainring. Put yourself in racing stress. Optimally, you can practice this at the end of the bike training just outside the front door, in case something goes wrong at that moment and you cannot completely fix the simulated defect.
Triathlon Coaching - individual and highly effective!
6. Mental Preparation
Mental preparation is just as important as physical preparation when it comes to competing in triathlons. Here are some tips for mental preparation for your competition.
Every triathlete should have a number of strategies to relieve stress and stay calm in a variety of situations. If at any time you feel overwhelmed, it's a good idea to take a step back, catch your breath, take a deep breath, and slowly count backwards from ten, for example, to relieve stress and break the cycle of negative thoughts.
Before the start, for example, you can additionally perform warm-up exercises and a short meditation session. Even if it's not a complete meditation exercise, you can consciously go through the upcoming steps, e.g. the following procedures in the transition area. Increasing mindfulness has been shown to reduce stress. Find as quiet a place as possible, focus on your breathing. Visualize your race procedures and don't forget anything: close your eyes and imagine yourself successfully completing your Olympic distance or Ironman.
Here are more tips that will help you.
Positive self-talk: use positive reinforcement to boost your confidence and motivation.
Set realistic goals: Whether it's to reach a certain time or to get you to the finish line, this will give you a sense of purpose and motivation.
Concentrate on the present: don't think about what might happen in the future or what has happened in the past.
Stay calm: keep your cool by taking deep breaths, listening to calming music (NOT in the actual race situation, of course), or talking to other triathletes.
Train this self-motivation also in training, e.g. long bike rides, runs, in coupled training, as well as in swimming.
You have not reached your goal until you have crossed the finish line.
You can also take a break of 1 hour in the Ironman. This sounds strange, but I know some examples where people thought they could never finish, paused for 1 hour, ate well, even slept, and then resumed and finished the Ironman.
Usually at an Ironman you are more than 10 hours on the road, have trained for many months, friends and family are at the race site. Your mindset decides how you finish.

7. Checklist before your Race
The triathlon packing list is an essential part of preparing for a triathlon competition. It helps you make sure you have everything you need before the race so you don't have to worry about anything at the last minute.

Here are some items you should have on your packing list:
Race Day Instructions: Make sure you know the race course, transition area locations and start times.
Make sure you are physically able to complete the course that day.
Nutrition and hydration: Consider your fluid needs for the swim, bike and run distances.
Clothing: Make sure you have comfortable and appropriate clothing for each section, and don't forget to pack a change of clothes for after the race.
Personal Items: Prepare all necessary personal items such as sunscreen, hat, sunglasses, towel and any medications you may need.
Mental preparation: visualize your race and use positive imagination to calm you down and boost your confidence.

8. Recovery
After a triathlon race, it is important that you give your body time to recover. Recovery includes rest, nutrition and stretching to allow the muscles to recover from the physical activity.
Here are some tips for fast and effective recovery after a triathlon:
Fill up your energy reserves within 30 minutes after finishing the race.
Take an ice bath (sometimes this actually works), Cool yourself or just your legs in the water.
Drink a recovery drink and plenty of fluids to rehydrate your body. A non-alcoholic beer would actually fall into the recovery drink category here.
Give yourself enough rest and sleep so that your body can fully recover.
Perform light stretching and low-impact activities, such as yoga, swimming, or cycling, to help your muscles recover, remove waste, and stimulate metabolism to prevent injury.
If you follow these tips, you will recover faster and be able to start triathlon training again in no time. Remember to listen to your body and give it the rest and recovery it needs to perform at its best.

9. Prepare like a pro: your ultimate checklist for triathlon competition day
Participating in a triathlon is an incredible challenge that requires months of preparation and hard work. By following our comprehensive triathlon race day checklist, you can be sure that you are taking into account all the important things and activities needed for a successful race day and you won't forget anything. Remember that the key to a great performance is preparation, leave nothing to chance in the race.
If you're looking for professional help with your Triathlon Coaching, our team of experts can provide the guidance and support you need to succeed. Contact us to learn more and start your journey to triathlon success!
download Checklist Triathlon Race
Also interesting: